Community website by MBC/Ernest Abrams. Call 808-739-9797 for advertising/sponsorship.
Waikiki Get Down - Honolulu, Hawaii
News Item

Waikiki Neighborhood Board Meeting MAY 2023 Minutes
With Permission / Courtesy of
: City and County of Honolulu Neighborhood Commission Office
<!#450IMAGESTART>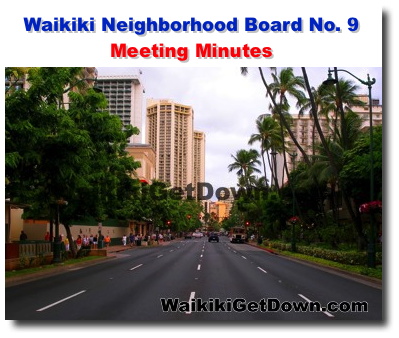 <!#450IMAGEEND>
WAIK K NEIGHBORHOOD BOARD NO. 9
May 2023 Minutes
WAIKIKI NEIGHBORHOOD BOARD NO. 9

REGULAR MEETING MINUTES - DRAFT

TUESDAY, MAY 9, 2023

WAIK K COMMUNITY CENTER IN PERSON
CALL TO ORDER: Chair Robert Finley called the meeting to order at 6:00 p.m. A quorum was established with 11 members present. Note: This 17-member Board requires nine (9) members to establish quorum to take official board action.
Board Members Present: Michael Brown, Robert Finley, Melissa Filek, Daniel Jacob, Ken Jacob, Louis Erteschik, Katheryn Henski, Jeffery Merz, John Nigro, Gregory Misakan, and Mark Smith.
Board Members Absent: Lisa Cabanero, Mark Garrity, Tommy Penrose, Robert Boyack, Bowe Souza, and Jacob Wiencek.
Guests: Major Randall Platt and Lieutenant Lieu (Honolulu Police Department); Dominic Dias (Board of Water Supply); Nola Miyasaki (Mayor Rick Blangiardi's Representative); Charles Izumoto (Senator Sharon Moriwaki's Office); Representative Adrian Tam; Keola Fisher (Council Chair Tommy Waters Office); Dave Willard (WBIDA); Rick Egged (WIA); Dolan Eversole (Waik k Sea Grant); Ed Springer, Tim Gary, Sally Manglicmot, Richard Byron, Brynn Ronto, Denise Boisvert, Pam Walker, Betty Cavanaugh, Patrick McCoin, Karen O'Neil, Ann Endicott, Pat Moore, Carlino Giampaolo, John Deutzman, Stan Simpson, (Residents) and Judi-Ann Smith-Kauhane (Neighborhood Commission Office). In-Person Total Participants: 32.
CITY MONTHLY REPORTS

Honolulu Fire Department (HFD): No Representative - Monthly report was sent to the NCO offices via email.

• April 2023: 16 activated alarms, 180 medical calls, one (1) motor vehicle crash/collision with pedestrian, and four (4) motor vehicle crash/collisions.

• Safety Tip: Home Fire Sprinklers safety tips were provided. For more information visit www.fire.honolulu.gov.
Honolulu Police Department (HPD): HPD Statistics were handed out at the beginning of the meeting by Lieutenant Lieu - District 6:

• April/March 2023: Robbery: 5/4; burglary: 6/6; theft: 178/169; Unauthorized Entry into Motor Vehicle (UEMV): 19/22; assault: 35/38; sex crimes: 3/6

o Citations: Bike/skateboard on sidewalk: 59/33; speeding: 29/64; parking: 1,894/2,316; loud muffler: 12/3; and park closures: 86/111.

o Arrests: Park Closures: 9/9

o Total calls of service; 5,292/5,202. For more information visit http://www.honolulupd.org.
Board of Water Supply (BWS): Dominic Dias gave the following report:

• Breakages: No breaks for the month of April 2023.

• For more information go to https://www.boardofwatersupply.com.
Questions, comments and concerns followed: Sand: Chair Finley asked for and updated status regarding sand on Kal kaua Avenue. Dias will follow up with the Board at the next meeting.
BOARD BUSINESS

Safe and Sound Program: Prosecutor Steve Alm/HPD/WBIDA/WIA gave a six-month update of the Safe and Sound Program.

• In September 2022 the Safe and Sound Program started in Waik k

• Geographic Restrictions - Have to put offenders on probation in order to prosecute accordingly.

• Mahalo to HPD - Crimes are down where there are significant percentages in each category within the 6-month period

• Creating programs to help offenders who commit petty misdemeanors with serious mental illness.

• Start small and look at the big picture and long-term programs to assist HPD, Waik k Business Improvement District, and Waik k Industry Association to keep the Waik k community safe.

• Not a sprint, it is a marathon to help the community become a safer place.

• Major Platt, Rick Egged, and Dave Willard gave updates on progress and action plans in the Waik k community.

• The system needs to be improved. The process needs to be more efficient between accessing repeat offenders with serious criminal activity and mental health offenders.

• MH-1 Program Application for Emergency Examination and Hospitalization Program.
Questions, comments and concerns followed:

1. Keep Vigilant: Resident Deutzman commented although there are improvements, there is still crime happening. Prosecutor Alm responded it will be an on-going effort, everyone needs to be vigilant in their community.

2. Broken System: Resident Deutzman commented scenarios of activity that are happening in the community where our system is not efficient. Prosecutor Alm agrees and explained how the Miami program can work in Hawai i.

3. Hospitals and DOH: Resident commented on the disconnect between the hospital and the Department of Health.

4. Culture of Leniency: Prosecutor Alm commented the repeat offenders describe the justice system in Hawai i a Culture of Leniency.

5. Activate the Community: Member Merz commented thanks to HPD and all people that assist them (Safety and Clean up patrols) to keep the community "Activated," in order to keep the offenders uncomfortable.
Midnight Beach Closure: Rick Egged presented to the Board to support the closing of K h o Beach Park from the "Surfer Statue," to the HPD station. Currently, the closure is 2:00 am. Major Platt commented it will help HPD enforce the closure more effectively and this would give a reason for the Hotels to consider revising their times in the future. Discussion Followed.
Brown Moved and Henski Seconded to ask the Department of Parks and Rereations to Support the Closing of K h o Beach Park Between the Surfer Statue and HPD Station be Enforced at 12 Midnight to 5:00 am was Adopted 11-0-0. Aye: 11 (Jacob K., Merz, Misakian, Erteschik, Finley, Jacob D., Brown, Henski, Filek, Nigro, and Smith). No: Zero (0), and Abstain; Zero (0).
Waik k Beach EIS: This update presentation Ho'omau 'O Waik k Kahakai, done by Costal Process Specialist Dolan Eversole regarding the chronic erosion of the beaches and mitigating future impacts of sea-level rise in the Waik k Area. This is a $20 million project that will be reporposing the sand off shore and approximately 10ft deep by vacuum and filtering the sand back on shore. They are also creating "T and L" beach nourishment with stabilizing structure to preserve the sand from eroding. They are going to create a smaller structure costing $360,000 to test the project. With on-going maintenance, this program will make a big difference with climate change and preserving our picturesque beaches. Power-point presentation and hand outs were distributed to the members of the Board prior to the presentation. Discussion Followed.
Questions, comments, and concerns followed:

1. Project Funded: Member Merz asked if this project is federally funded and if not is it solely state funded. Eversole responded currently it is a state funded project.

2. Project Plan: Member Merz asked if this project is a one-time project or will there be an on-going project. Eversole responded once this project is completed, there will be on-going maintenance to make sure the stabilizers are safe for the community.

3. Feedback and Safety: Resident commented in the past there was some safety concerns where the sand was coming from and also how it is re-distributed for the stabilizers. Egged responded that constant revisions are made for safety precautions.

4. Sacred Areas: Resident Gary commented to be mindful of where the sand is coming from. The areas by Queen's Beach are burial sand and is considered sacred to the surfing community.
Merz Moved and Henski Seconded to Strongly Support the Project Objectives and Goals Included in the Waik k Beach Improvement and Maintenance Program EIS was Adopted 11-0-0. Aye: 11 (Jacob K., Merz, Misakian, Erteschik, Finley, Jacob D., Brown, Henski, Filek, Nigro, and Smith). No: Zero (0), and Abstain; Zero (0).
Legislative Report: Vice Chair Erteschik gave a final update of Legislative report. He said there were A LOT of people there and it was down to the wire. In all of his years, he has never seen this kind debate going on at the ledge.



PUBLIC EVENTS

Public events were announced by Chair Finley: May 2023 agenda.
APPLICATIONS FOR LIQUIOR LICENCES

Applications for liquior licences were announced by Chair Finley: See May 2023 agenda.
ELECTED OFFICIALS AND OTHERS

Mayor Rick Blangiardi's Representative: The Department of Human Resources (DHR) Director Nola Miyasaki gave the following report:
Highlights:

Ala Wai Project: In conjunction with the US Army Corps of Engineers, The City held a virtual meeting for the Ala Wai Flood Risk General Re-evaluation Study. The meeting took place on April 24th at 5:30 pm on https://usace1.webex.com/meet/AlaWai. This is part of the public scoping period for the Engineering Corps Notice of Intent to prepare a Supplemental Environmental Impact Statement (EIS). It is intended for public comments and questions on the prospective plan and supplemental EIS. A presentation on the prospective plan with NEPA/HEPA process is available at https://honolulu.gov/AlaWai. Please download and review the presentation at your convenience. More information about the project can be found at this website, as well as recordings of all previous virtual public meetings. You can also subscribe to the project mailing list by inputting your email address and clicking "subscribe" at the bottom left menu of the page.
• Meet your City Officials: Mayor Blangiardi and his team has been on the road to visit communities around Oahu. There are 3 Town Hall meetings left which will include an open Q&A session with Mayor Blangiardi and representatives from 25 City departments and agencies. The public is encouraged to attend to give suggestions on how this administration can better serve the people of Oahu.

o Thursday, May 11th 6-8 p.m. Ala Wai Golf Course Clubhouse

o Thursday, May 18th 6-8 p.m. King David Kal kaua Middle School

o Thursday, May 25th 6-8 p.m. Pearl Harbor Elementary School

• One O'ahu with Mayor Rick Blangiardi Podcast: Another great way to ask the Mayor and City leadership a question is to submit a question to the One O'ahu with Mayor Rick Blangiardi podcast! Every week, Mayor Blangiardi and members of City leadership provide updates on various City functions and answer questions from the public. Host Brandi Higa leads the conversation that can range to anything from property tax assessments and permitting questions to the Honolulu Zoo and renovations to the Neil S. Blaisdell Center. Subscribe to the One O'ahu podcast wherever you listen to podcasts to get new episodes in your feed every Thursday. Submit your questions and learn more at www.oneoahu.org/podcast!

• Earth Month: April was Earth Month in Honolulu, with April 22 being celebrated as Earth Day on our island home and around the globe. This year's theme, Invest in Our Planet, focused on bringing awareness to the investments in time, money, and attention needed to ensure a bright future for our all our residents, from keiki to k puna.

• Chinatown Food Waste Composting Pilot: On O ahu, food waste comprises about 20% of the overall solid waste stream. As the City looks to reduce waste overall, food waste is a key target for innovation. In April, City staff announced that, three months into implementation, the O ahu Compost Project continues to successfully divert food waste and excess food from O ahu's waste stream. Learn more about the O ahu Compost Project at www.resilientoahu.org/ocp

• O ahu Agriculture Grants: Last year, the City's Office of Economic Revitalization (OER) announced the creation of a $3 million grant program to support O ahu's agriculture sector, utilizing funds from the federal American Rescue Plan Act's Fiscal Recovery Funds. Stay tuned at www.oahuaggrants.org to learn more.

• New Leadership: The Mayor's Office of Housing and Homelessness welcomed Denise Iseri Matsubara as its new Director. The Department of Land Management underwent a recent leadership transition and has named DLM Deputy Catherine Taschner as Acting Director. Mayor's Newsletter may be found at https://www.oneoahu.org/newsletter.

• For the second year in a row, Forbes has distinguished The City and County of Honolulu among America's Best Employers by State, ranking #2 employer in Hawai'i and #1 in the state for government services. To explore career opportunities at the City and County of Honolulu, please visit https://www.governmentjobs.com/careers/honolulu.

• Hiring Event: The Department of Community Services' Work Hawaii Division is proud to announce that the next major hiring event will be held on Wednesday, May 24, from 9 a.m. to 1 p.m. at the Dole Cannery's ground floor (650 Iwilei Road).

• Neighborhood Board Elections: The voting period started on April 28 and runs through May 19; you can find out more information at the NCO website at www.honolulu.gov/nco/nbelections
Follow Up:

• Property: Member Jacob requested to look at 236 K h o Avenue as a potential location to revitalize in Waik k . (April 2023 Revision: the address is 2260 K h o Avenue). Chair Finley noted it's owned by ABC Stores and they are waiting for DPP to demolish it. What is the status of the permit and why is it taking so long? The Department of Land Management (DLM) responded, thank you for notifying the City and County of Honolulu regarding 2260 K h o Avenue, Honolulu, Hawaii 96815. DLM will review and contact the fee owner if the City is interested in proceeding with redevelopment. The Department of Planning and Permitting responded, there are no building permits submitted for a demolition for 236 K h o Ave. and there are no building permits submitted for a demolition for 2260 K h o Ave. But there is 1 building permit in review for a water-cooled chiller replacement and 1 building permit in the inspection phase for an interior alteration on property 2260 K h o Ave.

• Ala Wai Project: A resident asked why the Ala Wai Flood Risk General Re-evaluation Study meeting is virtual only and not hybrid meeting allowing for in-person attendance/testimony? The Department of Designing and Construction responded, since the onset of the COVID pandemic, meetings with the USACE have been conducted online and continue to be so, primarily because the USACE staff are based on the east coast and their budget does not allow for frequent travel to Hawai i.

• Royal Waikiki Garden Project: Is the Ala Wai Golf Course being turned into a botanical garden. If so, what public groups as interest in the Royal Waik k Garden Project. The Department of Environmental Services responded, the Royal Waik k Garden Project is not a city project. The Ala Wai Golf Course is not interested in this at this time. Mahalo.

• Maintenance: Resident Fukuchi requested maintenance on the water fountain in Ala Wai Boulevard between Lewers and Kaiolu. The water fountain in this link: https://www.google.com/maps/@21.2831365,-157.8274747,3a,75y,30.46h,83.12t/data=!3m6!1e1!3m4!1spMFKpzKwX7ud6YQ7736suw!2e0!7i16384!8i8192. The Department of Facilities Maintenance responded, the Chief of Road Maintenance Tyler Sugihara followed up with the Public Building Electrical Maintenance and they will send someone from their plumbing section to check out the water fountain. Tara Hirata responded, submitted a work order to the DPR Plumbers and spoke to the Plumber supervisor. They will try and go out this week to repair.
Questions, comments, and concerns followed:

1. Complete Streets: Resident asked after the complete streets study was done, there was less than 5% of bikes recorded on the Ala Wai Blvd. When is DTS going to make the final decision to implement the bike lane.

2. Unsafe Tied Boats: Resident asked if DOT Harbors Department can assist with the recent increase of maintenance of docs and unsafe tied boats in the marina outside the likai Hotel.
Chair Finley Updated the Board that Sub District #1 is an Ucontested Race. Everyone in the Sub District #1 is all Elected.
Council Chair Tommy Waters: Keola Fisher reported the monthly highlights and overview for Council Chair Tommy Waters' office. For more information go to www.tommy.waters@honolulu.gov.

• $3.4 billion in tax relief measures. Various options were mentioned that will be part of this budget.

• Resolution 23-40 Permitted Interaction Group (PIG) for Real Property Tax - long term tax relief efforts.
Senator Sharon Moriwaki: Charles Izumoto gave a quick overview of her monthly report regarding a number of bills submitted. For more information go to www.senstormoriwaki@capitol.hawaii.gov. Gave an overview of the last legislature proceedings and bills passed.
Governor Josh Green: No Representative present. Received Governor Josh Green's monthly newsletter via inter-office mail. For more information go to www.governor.hawaii.gov.
Representative Adrian Tam: Representative provided legislative updates. www.reptam@capitol.hawaii.gov.
Approval of Minutes Tuesday, April 11, 2023: Hearing no Objections, the Tuesday, April 11, 2023 Minutes were ADOPTED as Written.
RESIDENTS'/COMMUNITY CONCERNS NOT COVERED BY EARLIER DISCUSSION:

Community Outreach Project: Member Brown gave an overview of the Genki Ball project and requested for the Waik k Board to participate on Saturday, June 24, 2023. Chair Finley mentioned to the Board would like to use the $1000 for the Genki Balls Project.

Morning Trash Pick Up: Resident Carlino Giampaolo gave an up dated report regarding early morning trash pick-ups disturbing the peace and shared his intention is to unite the Neighborhood Boards regarding this issue. Attended the Ala Moana Board meeting mentioning the Board has had this topic on their agenda for past two (2) months. More monthly updates to follow.

Additional Signage for N P haku Ola Kapaem h a Kapuni Monument: Managing Director Mike Formby contacted Chair Finley to see if they could do a presentation regarding additional signage for the N P haku Ola Kapaemn h a Kapuni Monument. Chair Finley discussed with Director Formby it sounds like DPR has approved this project and the Board does not want to delay the process. Chair Finley wanted to keep the Board informed about the progress of this project.
REPORTS:

Sub district 1 Report - JEFF MERZ: Absent. No Report.

Sub district 2 Report - JACOB WEINECK: Absent. No Report.

Sub district 3 KATHERYN HENSKI: Happy to be back.

Chair Report: The next Waik k Neighborhood Board meeting will be on Tuesday, June 7, 2023.
ANNOUNCEMENTS:

2023 Neighborhood Board Election: Chair Finley announced the 2023 Neighborhood Board Elections begins on Friday, April 28, 2023 through Friday, May 19, 2023.
ADJOURNMENT - The meeting adjourned at 8:21 pm.
Submitted by: Judi-Ann Smith-Kauhane - Neighborhood Assistant

Reviewed by: Naomi Hanohano - Community Relations Specialist

Final Review:
Featured Product/Service
<!998Template_start>
<!998Template_end>
---
Please send questions about this website to