Community website by MBC/Ernest Abrams. Call 808-739-9797 for advertising/sponsorship.
Waikiki Get Down - Honolulu, Hawaii
News Item

Blessing Marks Completion Of Initial Volunteer Repairs To Koko Crater Tramway
<!#43START>
Blessing marks completion of initial volunteer repairs to Koko Crater Tramway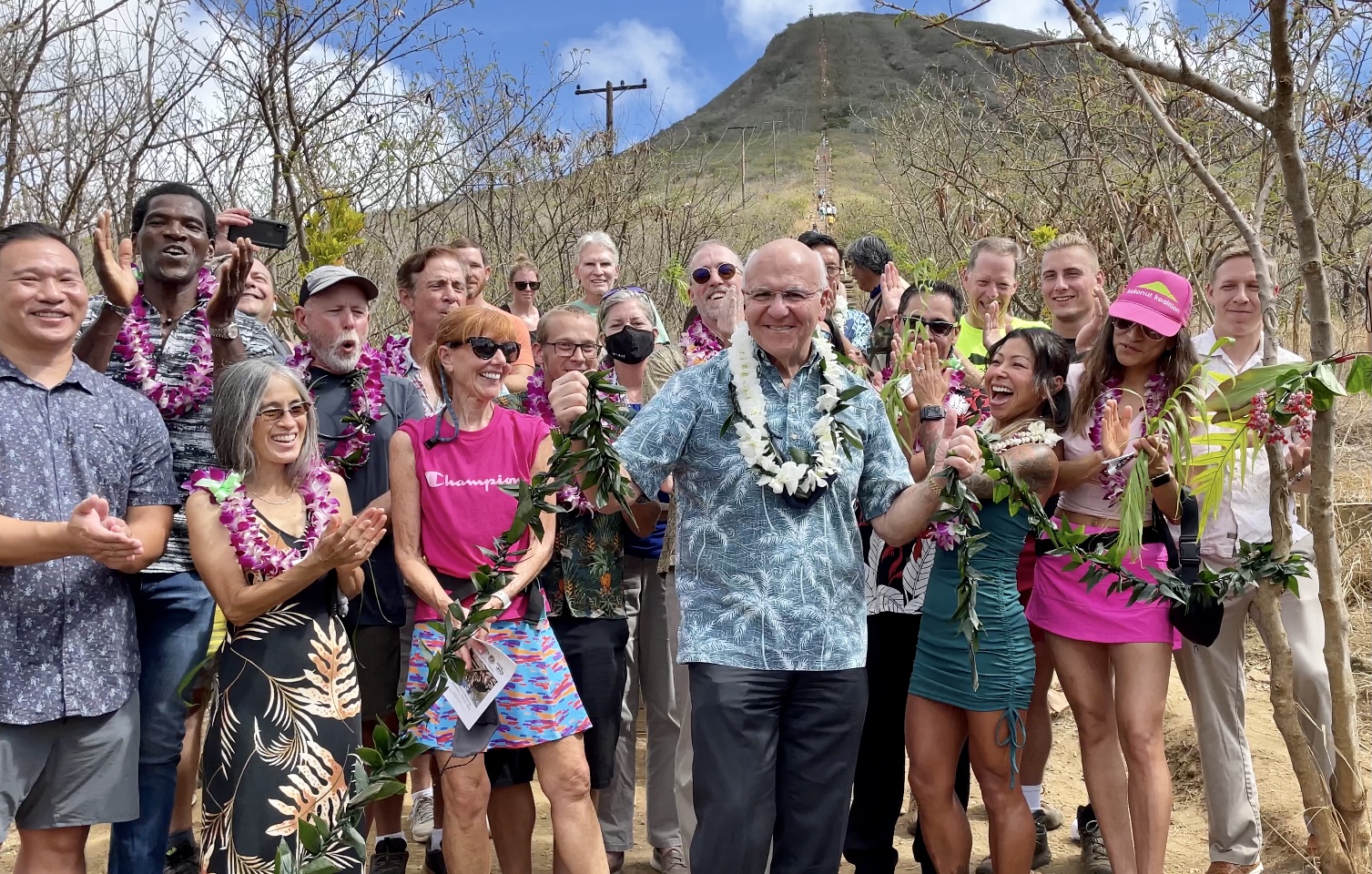 Mayor Rick Blangiardi joined the Kokonut Koaltion volunteers to bless the Koko Crater Tramway following the completion of their initial repairs to the stairs.

O'AHU – Climbing over 1,048 steps of varying height in an exposed environment is difficult. Imagine hauling tons of equipment and materials up those steps, repairing that path as you ascend, week after week. That dedication and display of intense labor culminated today with a blessing marking the end of the initial volunteer repairs to the popular Koko Crater Tramway by the non-profit group Kokonut Koalition.

"We are blessed to have an amazing ensemble of volunteers and non-profits that help to keep our island community beautiful and functioning, and the Kokonut Koalition is without a doubt one of the most tenacious, hardworking organizations I have ever encountered," said Mayor Rick Blangiardi. "The herculean effort they organized these past months, and the attention to detail and coordination with our City staff, is a testament of their devotion to this very popular public resource and to Koko Crater. A big heartfelt mahalo to all of the incredibly tough, hardworking, selfless volunteers."

The partnership between the City and the
Kokonut Koalition was realized in January of this year
following coordination from the non-profit volunteer group and several City administrations. In total, the City contributed approximately $100,000 to help launch the effort, with the Koalition fundraising another $120,000 from a combination of individual donations and larger contributions from groups such as the Central Pacific Bank Foundation and Home Depot.

With this money, the Koalition, its band of volunteers, and everyday hikers worked weekly (and sometimes multiple times a week) to repair the stairs. This resulted in an estimated 6,000 hours of volunteer work, which involved the strenuous physical labor of carrying nearly 608,000 lbs of supplies up the iconic mountain and installing hundreds of new tramway ties by hand.

"We're so proud of our accomplishment," said David Nixon, President of the Kokonut Koalition. "Huge numbers of people sacrificed weekends and weekdays for 10 months, huffing & puffing, dragging the supplies up the mountain, and laying each new step or load of gravel by hand. By putting our blood and sweat into this mountain it has made our community strong in every way. There is still work to be done maintaining this popular trail, but everyone is thrilled with the condition of the stairs now and with how quickly we were able to finish this work." 

In 2019, the Koalition estimates that between 275,000 and 300,000 accessed the tramway, many of them local residents and regular tramway hikers. By the time the volunteer work began in January 2021 only about one-third of the 1,048 tramway ties remained in a functional capacity. City Council Chair Tommy Waters was instrumental in coordinating City and Koalition efforts well before this work began, along with assistance from various staff within the City departments of Parks & Recreation and Design & Construction.

"This represents the very best of what is possible on our island when the community and the City collaborate," said Honolulu City Council Chair Tommy Waters. "This beloved spot is in better shape than ever, and we have the Kokonut Koalition to thank. They put in more than 6,000 hours in sweat equity because they care, and thanks to the community this restoration happened both faster and for less cost than if the City tackled it alone."

The WWII-era tramway was constructed in 1942 by the U.S. Military to transport cargo and personnel up to the Koko Crater Summit, which served as a radar station. The station was deactivated by the Air Force in 1947, and the abandoned structures were turned over to the City and County of Honolulu in 1966. Upon deactivation, the Air Force removed equipment but left abandoned concrete & steel structures on the summit, and the tramway track & trestle structures leading up to the summit. Larger fixed equipment, such as the tramway hoist, were abandoned in place. Since then, the tramway track & trestle structures have been widely utilized as a recreational hiking trail.

The Kokonut Koalition is a non-profit organization comprised of unpaid volunteers. Formed in 2018, they advocated for repairs to the stairs and preservation of the iconic structure. They reached a partnership agreement with the City and County of Honolulu in the beginning of 2021 to make volunteer repairs to the historic tramway. These repairs were originally projected to take two to three years, but the Koalition completed the initial rehabilitation in 10 months thanks to overwhelming volunteer support from the community. Ongoing maintenance will be necessary as the popularity of the tramway continues to grow. To assist with these volunteer efforts and donate to the cause, visit
kokonutkoalition.org


If you need an auxiliary aid/service, other accommodations due to a disability, or an interpreter for a language other than English in reference to this announcement, please contact the Honolulu Department of Parks and Recreation at (808) 768-3003 on weekdays from 7:45 a.m. until 4:30 p.m. or email
parks@honolulu.gov
<!#43END>
Featured Product/Service
<!998Template_start>
<!998Template_end>
---
Please send questions about this website to