Community website by MBC/Ernest Abrams. Call 808-739-9797 for advertising/sponsorship.
Waikiki Get Down - Honolulu, Hawaii
News Item

Neighborhood Board #9 Waikiki 2020 Minutes
With Permission / Courtesy of
: City and County of Honolulu Neighborhood Commission Office
<!#450IMAGESTART>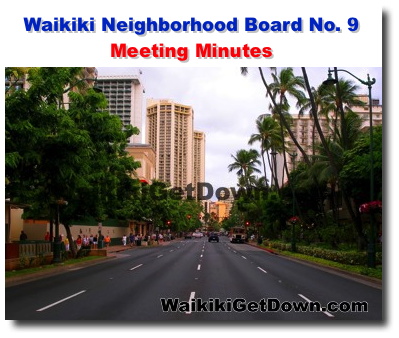 <!#450IMAGEEND>
WAIKIKI NEIGHBORHOOD BOARD NO. 9REGULAR MEETING MINUTESTUESDAY, AUGUST 11, 2020WAIKIKI COMMUNITY CENTER
CALL TO ORDER: Chair Robert Finley called the meeting to order at 7:00 p.m. A quorum was established with 10 members present. Note: This 17-member Board requires 10 members to establish quorum and to take official board action.
Board Members Present: Jacob Wiencek, Jerome Bautista, Helen Carroll, Louis Erteschik, Robert Finley, Mark Garrity, John Nigro, Patricia Shields, Mark Smith and Michael Brown.
Board Members Absent: Robert Boyack, Lisa Cabanero, Walt Flood, Kathryn Henski, Jeffrey Merz and Kenneth Wilder.
Guests: Charles Izumoto (The Office of Senator Sharon Moriwaki); Kelsey Cobitts (Biki Bike Share); Councilmember Tommy Waters; Pat Moore, Franklin Chung, JP Browne and Judith Wells (Residents); Casey Ishitani (Neighborhood Assistant). Name was not included if not legible on the attendance sheet.
FILLING OF VACANCIES:
One (1) Vacancy Sub District 2: Seeing as there were no nominees or volunteers, Chair Finley deferred this item to the September 2020 meeting.
CITY MONTHLY REPORTS
Honolulu Fire Department (HFD): A representative was not present. No report was given.
Honolulu Police Department (HPD): A representative was not present. No report was given.
Board of Water Supply (BWS): BWS representatives were unavailable. No report was given.
RESIDENTS AND COMMUNITY CONCERNS
Construction: Nigro reported that there is work on Ala Wai Boulevard near Hobron Lane until August 12, 2020. Construction on Kuhio Boulevard near the Kaiulani Hotel will start on Monday, August 24, 2020 and last for two (2) to three (3) weeks.
Bill 2: Merz submitted via e-mail to Chair Finley that Bill 2 was introduced to establish that no off-street parking will be required in the Primary Urban Center Development Plan area and Ewa Development Plan areas, except for those areas located in the residential, agricultural, and preservation zoning districts
PUBLIC EVENTS: Chair Finley reported the following public events in Waikiki. Note: all events are submitted and awaiting City Approval/Denial. Due to the Covid19 virus most street events will not be held this year. All September 2020 Aloha Festivals Events were cancelled.
• Sunday, September 6, 2020, Noon to 3:00 p.m., Labor Day Parade
• Saturday, September 12, 2020, 2:00 p.m. to Midnight, Waikiki Fall Festival
• Sunday, September 27, 2020, 5:00 a.m. to Noon, Honolulu Century Bike Event
APPLICATIONS FOR LIQUOR LICENSES: Chair Finley reported the following liquor license application hearing.
• Thursday, September 3, 2020 Best Bridal, 2055 Kalakaua Ave, Retail General
ELECTED OFFICIALS AND OTHERS
Mayor Kirk Caldwell's Representative: Department of Design and Construction (DDC) Deputy Director Mark Yonamine was not present but submitted the following memo.
• Homelessness: The Board reiterated inquires toward mitigating homeless individuals congregating in Waikiki. They reported large gatherings at the Kuhio Beach pavilions. The Office of Housing (HOU) reported that new gates for some of the pavilions are in the process of being finalized and will be turned over to the Department of Parks and Recreation (DPR) for management.
• Open Streets: Residents, Senator Sharon Moriwaki and Board members raised concerns regarding individuals at the Open Street events on Kalakaua Avenue not wearing masks. The Office of Mayor Caldwell responded: "While outside is safer than inside, it doesn't make you immune to the virus. We've had significant spread over the past month attributed to large gatherings outside at beaches and parks, and while we haven't had any clusters tied to Kalakaua Open Streets, we highly recomend wearing a mask at all times when in public, when practical."
Governor David Ige's Representative: A representative was not present. No report was given.
Councilmember Tommy Waters: Councilmember Waters reported the following.
• Council Postponement: Councilmember Waters reported that Council meeting have been postponed due to positive COVID-19 tests in their offices. Meetings will resume with regards to further testing of Councilmembers and staff.
• Bill 47: When Council reconvenes, Bill 47 will be considered. Bill 47 would require the City Administration to make an offer to the affected Neighborhood Board prior to the removal or relocation of an established, marked crosswalk.
• Resolution 2020-191: Resolution 2020-191 would request that the City Administration utilize geo-fencing to help offset the impact of visitors on City and County of Honolulu properties and State of Hawaii natural resources.
• Transient Development: Councilmember Waters raised concerns regarding a transient development plan in the Ala Moana area with high-rise condominiums.
• 1615 Ala Wai Boulevard: Councilmember Waters reported that he will be making two (2) more offers to the property owner of 1615 Ala Wai Boulevard before going to the Corporation Counsel.
Questions, comments and concerns followed.
1. Ala Wai Watershed Project: A resident requested updates regarding the Ala Wai Watershed Project. Councilmember Waters responded that the United States Army Corps of Engineers (USACE) have developed an alternative plan that they will present to the Neighborhood Boards. The current plan will involve pumping stations in the Ala Wai Canal. Senator Sharon Moriwaki, Councilmember Carol Fukunaga and Councilmember Waters have formed a Permitted Interaction Group (PIG) to explore other alternatives to the current project. Chair Finley requested that Oceanit present their updated plans for the Ala Wai Watershed Project to the Board.
2. Ala Moana Development: Chair Finley raised concerns with futher high rise development in the Ala Moana area, stating that it would affect infrastructure and cost of living for Waikiki residents.
3. Pavilions: A resident raised concerns regarding homeless individuals gathering at the Kuhio Beach pavilions, which have been unlocked. Councilmember Waters responded that he will get back to the Board.
4. Property Taxes: Wiencek inquired about property tax reports and Councilmember Waters responded that the Council will release a property tax report.
5. Crime Rates: Wiencek inquired about the rise in crimes and what resources HPD has to combat it. Councilmember Waters reported that HPD's budget was increased by 10 million dollars for further recruitment.
Senator Sharon Moriwaki: Charles Izumoto of the office of Senator Sharon Moriwaki reported the following.
• Contact Tracing: Senator Moriwaki took part in a surprise audit of the State of Hawaii's contact tracing team. The audit found that they were short staffed and over worked. Senator Moriwaki will meet with a Committee on Wednesday, August 12, 2020 to discuss the contact tracing program.
Questions, comments and concerns followed. Contact Tracing: Nigro requested that the State of Hawaii Department of Health (DOH) be held accountable for lack of contact tracing. Smith inquired if there is Federal funding for contact tracing and Izumoto responded that there is.
Representative Tom Brower: Chair Finely thanked Representative Brower for his services. Representative Brower congratulated Adrian Tam on his successful campaign.
Federal Representative Ed Case: A representative was not present. No report was given.
APPROVAL OF MINUTES
Regular Meeting Minutes for Tuesday, July 14, 2020: Smith raised that the meeting time on the Call to Order item should read 6:00 p.m. A resident raised that there was an address discrepancy associated with an abandoned property at 1615 Ala Wai Boulevard, stating that 1717 Ala Wai Boulevard is being inspected instead of the abandoned property.
Chair Finley inquired if there were any objections to adopt the Minute as Amended. There were no objections. The Minutes were ADOPTED BY UNANIMOUS CONSENT, 10-0-0 (Aye: Wiencek, Bautista, Carroll, Erteschik, Finley, Garrity, Nigro, Shields, Smith and Brown; Nay: None; Abstain: None).
NEW BOARD BUSINESS
Smart Justice: A representative was not present. No report was given.
REPORTS
Treasurer's Report: The remaining budget for the Waikiki Neighborhood Board was $439.11.
Sub District 1 Report: No report was given.
Sub District 2 Report: No report was given.
Sub District 3 Report: Smith reported that he has observed large groups of residents under tents at beach parks not wearing masks. The HPD hotline number provided is (808) 723-3900.
Chair Report: Chair Finley reported the following.
• Voting: The voter turnout for the Primary Election was 51 percent.
• Sea Grant Hawaii: Sea Grant Hawaii has guides on emergency evacuation at https://seagrant.soest.hawaii.edu/. At Zoom meetings, Sea Grant Hawaii suggested that hotels open doors to shelter residents and visitors in case of an emergency. The hotels were reticent to allow access but may reconsider given the emergency.
• Lilia Apartments: Construction of the Lilia Apartments on Kanekapolei is proceeding on time. Concrete pour will proceed on schedule. Residents may go to http://www.liliawaikiki.com/ or call (808) 698-9977 for future affordable lodging.
ANNOUNCEMENTS
• The next Waikiki Neighborhood Board No. 9 meeting is scheduled for Tuesday, September 8, 2020 at 6:00 p.m.
• View this meeting on Olelo Channel 49 at 9:00 p.m. on the 4th Tuesday each month, and at 6:00 a.m. on the 1st and 3rd Sunday of each month. View online at: http://olelo.granicus.com/ViewPublisher.php?view_id=30
ADJOURNMENT - The meeting adjourned at 7:10 p.m.
Submitted by: Casey Ishitani, Neighborhood Assistant
Reviewed by: Jackson Coley, Public Relations
Final Review: Chair Robert Finley
Featured Product/Service
<!998Template_start>
<!998Template_end>
---
Please send questions about this website to