Community website by MBC/Ernest Abrams. Call 808-739-9797 for advertising/sponsorship.
Waikiki Get Down - Honolulu, Hawaii
News Item

Honolulu leaders demand fossil fuel companies pay for climate change costs and damages
<!#43START>
Honolulu leaders demand fossil fuel companies pay for climate change costs and damages
Mayor Caldwell and City Council leaders aim to protect taxpayers by holding fossil fuel companies accountable in state court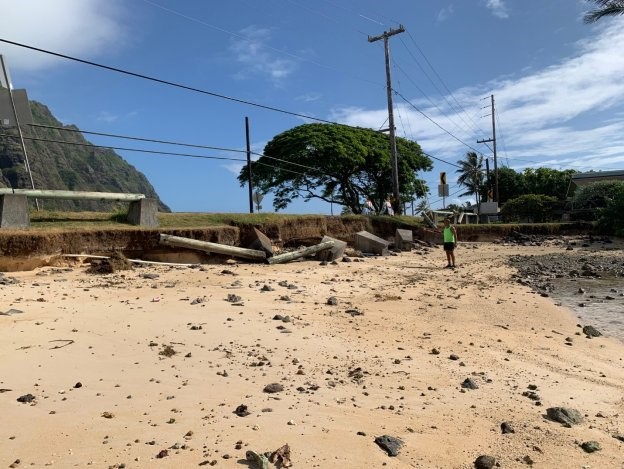 The impacts of climate change are already visible at Kualoa Beach Park on O'ahu.
HONOLULU – Mayor Kirk Caldwell and City Council leaders today asserted their intention to file a lawsuit in Hawaiʻi Circuit Court to hold fossil fuel companies accountable for the costs and consequences of climate change that those companies knowingly inflicted on Honolulu and its taxpayers.
To watch a replay of today's press conference, go to the mayor's Facebook page:
https://www.facebook.com/MayorKirk/videos/885830458478330/
"The evidence is piling up that just as big tobacco misled the public and policymakers about the danger of smoking, big oil waged a decades-long deception campaign and covered up the origins of today's climate crisis," said Mayor Caldwell. "The people of O'ahu expect government to stand up against those who knowingly harm others for financial gain, and that's exactly what we intend to do."
Climate change-related impacts threaten nearly every aspect of life in Hawaiʻi. Recent assessments and analyses have determined that:
•
On Oʻahu, 3.2 feet of sea level rise will impact 3,880 structures and 13,300 residents, resulting in $12.9 billion dollars of loss and damage to private property alone (2017
Hawaiʻi Sea Level Rise Vulnerability and Adaptation Report
).
•
10-15% of the state's highway system will be affected by sea level rise, and road protection and/or relocation efforts around the state will cost at least $15 billion. State of Hawai'i Statewide Coastal Highway Program Report. Prepared for the State of Hawai'i Department of Transportation, Project Number HWY-06-16, August 21, 2019).
•
A Category 1 hurricane could result in more than 20,000 people needing short- to long-term shelter ("Assessment of Single Family Home Vulnerability to Hurricane Winds," Martin & Chock Inc. February 2, 2019).
•
The estimated losses from a Category 3 hurricane could exceed $26 billion for O'ahu alone (City Multi-Hazard Pre-Disaster Mitigation Plan. 2011).
•
The
economic risk to Waikīkī alone
from a Hurricane Iniki-strength (Category 4) storm striking Oʻahu's south shore is estimated at more than $30 billion in direct economic losses and structural damage (
State of Hawai'i Multi-Hazard Mitigation Plan
, 2010.)
Legal experts and the city's Corporation Counsel believe both the evidence and law support a claim against fossil fuel corporations. But recent
polling in Hawaiʻi
also showed widespread public support for making fossil fuel companies, rather than local taxpayers, pay for the climate adaptation costs facing residents on Oʻahu. When asked "
How much do you support or oppose making fossil fuel companies pay for a portion of the damages to local communities caused by global warming?
" Honolulu residents overwhelmingly supported doing so by a 70% to 18% margin.
A resolution to authorize the lawsuit must be approved by the full City Council and will be introduced immediately by Executive Matters and Legal Affairs Committee Chair Ron Menor (see attached).
"I strongly support the filing of a lawsuit against the fossil fuel companies because they can and should be held legally responsible for the climate change crisis we are facing," said Councilmember Ron Menor who is also an attorney. "This is specifically about holding the fossil fuel corporations accountable for not fully divulging to the public the environmentally harmful effects of their product even as they were making billions of dollars in profit and actively opposing efforts to transition to a clean energy economy many years ago."
Under the Administration and Council's approach, city Corporation Counsel will be assisted by expert outside counsel working on a contingency basis, meaning there are no costs for the suit to Oʻahu taxpayers, and outside counsel will only be paid if and when the lawsuit is successful.
Honolulu's planned lawsuit follows a similar announcement last week by Maui County, and adds to a wave of more than a dozen lawsuits across the U.S. that have been brought against fossil fuel companies by cities, counties, and states. Recent U.S. Supreme Court actions cleared the way for discovery to begin in similar cases brought by Rhode Island and the cities of Boulder, Colorado and Baltimore, Maryland, signaling that even more damaging evidence of oil company behavior could be uncovered. All of the lawsuits aim to hold fossil fuel companies accountable for costs and damages caused by producing, promoting, and selling products that their own scientists and experts warned could impose "severe" or even "catastrophic" consequences. In addition, instead of fulfilling their legal obligation to avoid or minimize those consequences, or at least warn people about the danger their products pose, fossil fuel companies waged a long-term campaign to conceal that danger and deceive the public and policy makers, all while promoting the increased use of their products and reaping large profits. Exxon alone has made over $500 billion in profits just since 2000, even as cities and counties have spent millions to fight fires, clean up after flooding, and restore services in the wake of climate-fueled storms.
"Rising seas, rain bombs, stronger hurricanes, and other consequences of climate change are already threatening Oʻahu and will impact our fiscal health," said Honolulu City Council Budget Chair Joey Manahan. "Taxpayers should not have to pay for all the steps we will need to take to protect our roads, beaches, homes, and businesses. That should be on the fossil fuel companies who knowingly caused the damage, and as budget chair, I believe we should go to court to make them pay their share."
Some fossil fuel companies also took steps to protect their own assets from these known climate change dangers even as they denied them in public, such as designing a taller North Sea oil platform in anticipation of rising sea levels. Honolulu leaders indicated that the defendants will be large fossil fuel companies that have historical ties to Honolulu, substantially contributed to climate change by producing, promoting, and selling products they knew, or should have known, would cause sea level rise and other climate change-related consequences, and are most closely linked, directly or indirectly, to efforts to deceive the public, press, and policymakers about those consequences.
"California is on fire, the Bahamas were nearly wiped off the map, and Houston has been hit by three 500-year floods in the past three years," said Honolulu's Chief Resilience Officer Josh Stanbro. "It is devastating to find out that big oil knew these impacts would occur as far back as the 1960s, and yet they chose to undermine the science and sow confusion instead of becoming responsible corporate citizens. This lawsuit won't stop climate change from happening, but it will help pay for the protection and preparation of our citizens as climate disasters continue to come our way."
List of jurisdictions that have sued fossil fuel companies to recover climate change related costs:
State of Rhode Island; New York City; City and County of San Francisco; City of Oakland; City of Baltimore; Boulder County; King County (WA); San Mateo County; Marin County; City of Imperial Beach; Santa Cruz County; City of Santa Cruz; City of Richmond.
Poll Information: Oʻahu Support for Making Fossil Fuel Companies Pay for Climate Damages (June 2019 Yale University):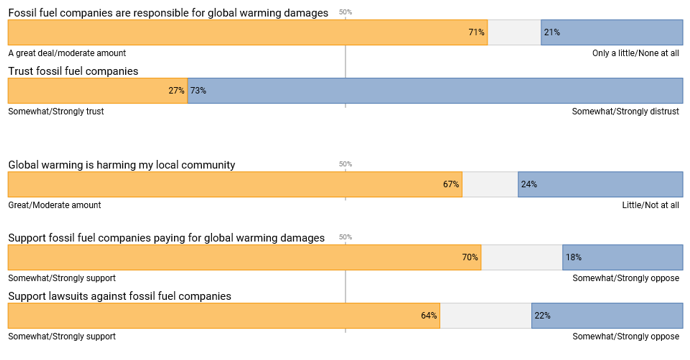 <!#43END>
Featured Product/Service
<!998Template_start>
<!998Template_end>
---
Please send questions about this website to