Community website by MBC/Ernest Abrams. Call 808-739-9797 for advertising/sponsorship.
Waikiki Get Down - Honolulu, Hawaii
News Item

Mayor Unveils Waik k Public Safety Package
<!#43START>
Mayor unveils Waikīkī public safety package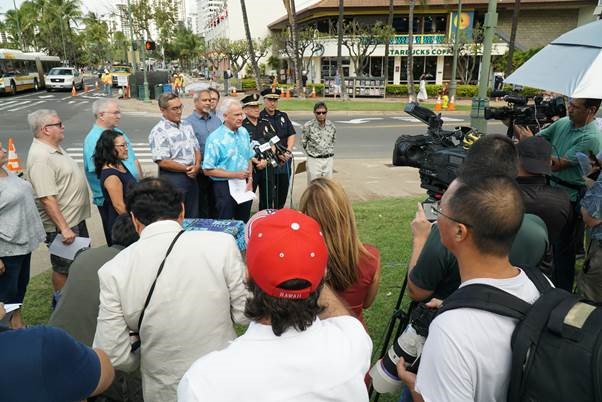 Mayor Caldwell leads today???s press conference at corner of Kalākaua and Kapahulu avenues. 
Waikīkī – Today, Mayor Kirk Caldwell was joined by officials from the Honolulu Police Department, the Hawai'i Tourism Authority (HTA), the Waikīkī Business Improvement District Association (WBIDA), and various city agencies, to unveil a new public safety package aimed at improving security in Waikīkī.
"Waikīkī is one of the safest visitor destinations in the entire world, and we want to make sure our visitors always feel comfortable in this very special place," said Mayor Caldwell. "We especially thank the visitor industry partners, and in particular the Hawai'i Tourism Authority and the Waikīkī Business Improvement District Association, for stepping up and providing hundreds of thousands of dollars for new security cameras. When the installation is pau, the Waikīkī district will have at least 50 surveillance cameras to help police in their mission to keep both visitors and residents safe while they celebrate life in one of the most incredible places on our planet."
Highlights of the public safety package are as follows;
 Surveillance cameras
(list attached)
•Currently, there are 10 city surveillance cameras mostly along Kalākaua Avenue; four of these have already been replaced with higher-definition cameras
•In addition to the existing cameras, at least 40 new cameras will be installed in the coming months.
•The Hawai'i Tourism Authority (HTA) provided a $300,000 grant for additional cameras, while the Waikīkī Business Improvement District Association (WBIDA) approved a $75,700 grant; these new cameras will feature pan-tilt-zoom capabilities with a 360-degree view    
•Monitoring of the new cameras will still take place at the Waikīkī police substation, with assistance from the Aloha Ambassadors funded by the WBIDA.
•Each new camera must be approved by a resolution approved by the Honolulu City Council
"We are appreciative of this collaborative effort with the City and County of Honolulu that will support HPD's efforts to make Waikīkī safer for residents and visitors," said Chris Tatum, president and CEO of the Hawai'i Tourism Authority. "With the support of Hawai'i's tourism industry and state government leadership, we will continue to work with the counties to invest our communities."
"The safety of our visitors, residents, and workers is important to the continued aloha of Waikīkī," added Jennifer Nakayama, president of the Waikīkī Business Improvement District Association. "Safety is always the top priority, no matter if you are a visitor from afar or a local that has lived here all their life. The WBIDA and our Board of Directors are proud to be a part of this important project's funding, as this equipment will enhance HPD's ability to monitor Waikīkī for the safety of all."  
Robust HPD presence
•The Waikīkī District deploys a combination of plainclothes and uniformed officers on foot, on bikes and ATVs, and in cars to prevent, respond to, and investigate crimes     
•HPD bike patrol officers are starting and finishing their work later. Their hours are from 10 a.m. to 6:45 p.m., Tuesdays through Saturdays
•New Officers are being deployed in Waikīkī as part of training. New officers work from the early evening to the early morning hours; the number of new officers depends on the size of the graduating class
•Enforcing curfew hours (unaccompanied children 16 years of age and younger cannot be on the streets between 10 p.m. and 4 a.m.)
•HPD partners with the visitor industry and community groups to promote a safe environment for visitors, residents and workers
New concessions
•The Department of Parks and Recreation is working with the Department of Enterprise Services to award concessions or create partnerships at pavilions two, three, and four located on the makai-side of Kalākaua Avenue
•Pavilion one near Kūhiō Beach Park has been home to Kūhiō Grill since June 2017
•The goal is to make these pavilions more inviting, while also adding service to Waikīkī
Removal of concrete benches/walls
(pictures attached)
•Concrete benches/walls where bad elements were known to gather have been removed at the following locations:
•Avalon Commercial and Outrigger Waikīkī Beach Resort
•International Market Place
•Waikīkī Business Plaza (took place Monday, Feb . 25) 
In 2018 O'ahu welcomed 5.93 million visitors, and this level of enthusiasm for a vacation in the City and County of Honolulu is expected to increase or remain steady in coming years. In 2017, Federal Bureau of Investigation (FBI) statistics showed Hawai'i had the lowest crime rate since records began in 1975, a 42-year low. Due to a number of recent high-profile incidents in Waikīkī, the city met with multiple agencies from the public and private sector, resulting in the formation of Mayor Caldwell's new public safety package. 
Attachment 1
Attachment 2
<!#43END>Source: City and County of Honolulu News Release
Featured Product/Service
<!998Template_start>
<!998Template_end>
---
Please send questions about this website to