Community website by MBC/Ernest Abrams. Call 808-739-9797 for advertising/sponsorship.
Waikiki Get Down - Honolulu, Hawaii
News Item

30 New Interactive Waikiki Maps Activated on WaikikiGetDown.com

Below are 30 categories we have populated with interactive maps so you can learn more about Waikiki, Honolulu, Hawaii.
Just click on the category below that interest you and you will be nagivated to the webpage with the map.
<!#994MultiTableStart>
Hotels & Resorts
Waikiki has a wide spectrum of Hotels and Resorts for just about any type of budget and lodging requirement. From luxury resorts with deluxe ocean view suites, boutiques, hostels and budget hotels, Waikiki has it all. More...

---

Apparel - Children's
Finding a nice outfit for your keiki (child) in Waikiki is easy. Just a few steps from your hotel or condo and you'll find plenty of kiosks and clothing stores that sell a variety of cute Hawaiiana aloha wear and casual shirts, lovely dresses and accessories that will surely make your child look their best. Feel free to browse through our listing below. More...

---

Apparel - Men's
Waikiki is a great place to find great menswear. From the classic Aloha shirt to casual t-shirts, board shorts and comfortable beach wear, Waikiki is the place to shop. Browse through our list of men's apparel shops and start looking for that next cool outfit! More...

---

Apparel - Women's
Ladies, Waikiki is a great place to find cool and trendy beach, casual or even party outfits for just about any occasion. Fashionistas and bargain hunters alike will find what they're looking for from these clothing stores and boutiques around Waikiki. From high-end styles and brands to casual (and even tourist-y) styles, Waikiki has it all.

Feel free to browse through our listing before heading out to plan your shopping itinerary. More...

---

Luxury Boutiques
From Luxury Row, Duty Free Galleria to the various hotels around Waikiki, this neighborhood has some of the top luxury boutiques in the islands. If you're shopping for bags, clothes, shoes and accessories here in Waikiki, be sure to check out our list of Waikiki luxury boutiques and get your shop on! More...

---

Waikiki Banks
Need a check cashed or some currency exchanged? Be sure to check our directory of Waikiki banks and head over to one that's closest to you. From ATM withdrawals, check cards for visitors to assisting local businesses and residents with their banking needs, these Waikiki banks can help. More...

---

Art & Photography
Looking for cool Hawaii art and photography in Waikiki? We can help! Check out our list of Art and Photography locations within Waikiki and maybe you'll be able to pick out a nice artwork for your home or office. From the Art on the Zoo Fence by the Honolulu Zoo to the many quaint art galleries along Waikiki, you'll definitely find something interesting to bring home. More...

---

Beauty Products & Salons
Waikiki is home to a lot of great stylists, hair & makeup artists and other fantastic shops (salons, barber shops, nail salons, etc.) that offer excellent personal care right for visitors and locals alike. You'll also find shops that sell beauty-products, sunscreen and other essentials that will keep you safe while out in the sun.

Browse through our list to find out more about these Waikiki-based personal care shops that suit your needs. More...

---

Nightlife Dance Nightclubs
Waikiki has some of the hottest nightclubs in town! If you're looking for a fun night out in Waikiki with your friends, browse through our listing of nightlife happenings, put on your dancing shoes and head out for a night of dancing, drinking and lots of fun! More...

---

Books Stores
If you're looking to grab a pocketbook or magazine before heading to the beach, then check out these bookstores near Waikiki. Want a souvenir Hawaiiana calendar, CD or coffeetable book of Waikiki, then head over to these bookshops. More...

---

Condominiums-Condos
If you're staying in Hawaii for an extended period of time, renting a Waikiki condominium is a great idea, especially if you're traveling with your family or staying with a large group.

There's a variety of fully furnished Waikiki condominium rentals complete with a kitchen that would make you feel right at home in beautiful Waikiki. Enjoy the sunny beaches, fabulous shopping and dining destinations that are walking distance from many condominium rentals in this neighborhood.

Browse through our Waikiki condo rental list below. More...

---

Tattoos Studios
If you want to get inked by some of the top tattoo Waikiki artists here, look no further. Waikiki has a lot of great tattoo shops for you to choose from. More...

---

Craft Fairs, Art Exhibits & Plant Shows
There's more to Waikiki than just shopping and dining. While we love to do both, Waikiki also offer a lot of fun activities to check out such as craft fairs and art exhibits. Walk around Waikiki's main and side streets and you'll discover quaint art galleries, displays and crafters that sell quality Hawaiiana and signature crafts. Plant lovers can also celebrate as there are also plant vendors and shows where you can find great tropical plants for your hotel or home. Check out our listing below. More...

---

Crafts
From Kapiolani Park to the International Marketplace and everything in between, there's always craft shops that offer tourists and residents a variety of crafts that you can bring home to enjoy or give as a gift. Check out our list of Waikiki merchants below and put on your shopping shoes! More...

---

Drugs & Variety
Forgot to pack your toothbrush or need some band-aid? Don't fret, Waikiki drugstores and convenience stores are here to help! Just stop by any of these drugstores and get what you need! More...

---

Entertainment
Waikiki will never run out of fun activities to check out. Check out our listing of arts, entertainment and events to find out what's happening in Waikiki. >From hula shows, live music and concerts, Waikiki has it all. So come on down and let's have some fun in Waikiki! More...

---

Accessories
Looking for a great accessory to go with that killer outfit for tonight's dinner or party in Waikiki? Then you've come to the right place! Be sure to check out these Waikiki jewelry and clothing stores where you'll find great deals and good quality accessories. More...

---

Eyewear & Sunglasses
To match that cool outfit and get some protection from the warm Waikiki sun, be sure to head over to these eye wear shops. You'll surely find a pair of sunglasses that you'll love to use over and over, even after your Waikiki vacation. More...

---

Flowers & Lei Stands
Part of showing our Aloha spirit is giving someone the gift of a lei. In Waikiki, there is no shortage of aloha as well as lei and flower stands. If you're in Waikiki and need to grab a lei for a visiting friend or loved one, here is a list of lei stands. Got a date and are walking in empty handed? Head over to these flower shops and get her a lovely bouquet or roses! View our list below. More...

---

Gifts & Souvenirs
While you're enjoying your Hawaii vacation, don't forget to stop by these souvenir and gift shops sprinkled around Waikiki. From t-shirts to accessories to unique Hawaiiana, you'll surely find something in Waikiki to remember your vacation by. Take a stroll along Kalakaua and Kuhio Avenues where you'll find plenty of vendors offering a wide array of souvenirs. Before you head out, be sure to browse through our list of shops to help you get started. More...

---

Home Furnishings
Whether you're looking for basic rugs or fine Koa home furnishings, these Waikiki shops have something for every budget and interest. You can find large items or small decorative pieces for your home or office so check out our listing Home Furnishing stores within and around Waikiki. More...

---

Jewelry/Watches
Head over to these Waikiki shops if you're looking to accessorize with a nice piece of jewelry or timepiece. From fun pieces that you can wear while at the beach to eye catching watches that you can sport while on a date or cool party, be sure to add some bling to your Waikiki vacation! Here's our list of Waikiki jewelry/watch stores. More...

---

Luggage
Need more space to store all your new clothes, accessories, macadamia nuts and souvenirs that you got on your trip? Then be sure to check out these shops that sell quality luggage within and around Waikiki. More...

---

Music & Video
Add some Hawaiiiana music to your collection while on vacation in Waikiki. These music shops within and around Waikiki offer a great selection of CDs and DVDs for you to enjoy while on vacation. In search of that song that a Hawaiian band was just playing? No worries, head over to these shops listed below! More...

---

Shoes Shops
Keep your feet comfortable and stylish while in Waikiki. From casual beach flip flops and slippers to classy footwear for men and women, these Waikiki shops offer a little bit of something for just about any taste. Check out our list below. More...

---

Shopping Centers, Malls & Outlets
Waikiki's shopping centers house some of the best brands and products in town! From national retailers to local stores selling home-grown products, to fantastic restaurants and specialty stores, Waikiki is hands down a favorite shopping spot among tourists and residents alike. Check out our listing of fantastic Waikiki shopping spots! More...

---

Sporting Apparel & Equipment
From surfboards, surf brand apparel to racing products and even ski jackets and accessories, you'll find what you need in Waikiki's sporting goods and apparel stores. Check out our list of Waikiki sporting apparel and equipment stores and start exploring this great neighborhood. More...

---

Toys, Games & Hobbies
Hobbyists, toys and game lovers will enjoy these toy stores and gaming shops within and around Waikiki. Shop for gifts or browse for some cool toys while or just kill some time by playing a few rounds in these game shops. Check out our list of stores within and around Waikiki. More...

---

Activity Booking & Concierge Services
If you're in Waikiki, chances are you're in search of something fun to do while on vacation. But this town always has something for everyone. Even long time or newly minted residents will find this list of Waikiki Activities and Concierge Services helpful. If you're booking a sightseeing tour for your friends or are interested in having some fun yourself, browse through our list below to help you get started. More...

---

Duty Free
What's better than shopping in Waikiki? Duty Free shopping in Wakiki! If you're visiting Hawaii, be sure to check out the shops at the Duty Free Galleria along Kalakaua Ave. Shop for bags, accessories, clothing and even specialty products offered by high end brands within DFS. Here's our list of shops and their contact information. Happy shopping! More...

---
<!#994MultiTableEnd>
Featured Product/Service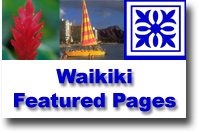 If you would like to be featured on one of our featured pages call Ernest at 808-739-9797.
<!998Template_start>
<!998Template_end>
---
Please send questions about this website to